Celebrate 1 Year of The Tomorrow Children: Phoenix Edition with an Exciting Anniversary Event!
Greetings comrades,
It's hard to believe it's already been a whole year since The Tomorrow Children rose from the ashes with the release of The Tomorrow Children: Phoenix Edition. In the past twelve months we've been incredibly humbled by the outpouring of support we've received from our comrades, especially through submissions of fan-art, streams and screenshots of your adventures.
We'd like to celebrate this momentous occasion, and have plans for Twitch Drops, exciting in-game updates, a new island to explore and more! Read on to find out what we have in store for you from September 7th to September 28th!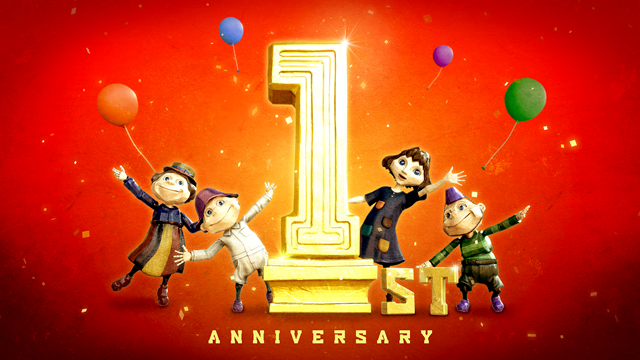 Twitch Drops
To celebrate the first anniversary of The Tomorrow Children: Phoenix Edition, we'll be giving out free items to viewers who tune in to streams of Tomorrow Children during our Anniversary Celebration! The prizes include both useful tools and event-exclusive items - all you have to do to claim them is link your PlayStation and Twitch accounts here, tune in to your favourite streamer as they play The Tomorrow Children: Phoenix Edition, and reap the rewards! You can also host your own stream and invite your comrades to join you in the quest for exclusive rewards.
For more information on the campaign, check out the website here!
Celebratory Symbols
Once the Anniversary Celebration begins on September 7th, you will have a chance of crafting the new commemorative 'Decorative Symbol (Star)' and the dazzling golden 'Decorative Symbol (1)' items when crafting a Decorative Symbol at the Workbench. The odds of randomly crafting these new objects is slightly increased during the event, so make sure to prepare the materials you will need to craft these celebratory decorations before it's too late!
A Golden Opportunity
Early reports indicate that the powerful Golden Izverg are once again migrating across the Void. Comrades that can fell these glittering goliaths will receive fantastic rewards, including the new 'Decorative Symbol (Star)' and 'Decorative Symbol (1)'. For those who would rather earn their items in combat rather than try their luck at the Workbench, this is the perfect opportunity!
At their current trajectory, these towering titans are expected to migrate on September 9th, and will be passing through for two days. For more information on when the Golden Izverg will appear, keep your eyes on the official Tomorrow Children Twitter!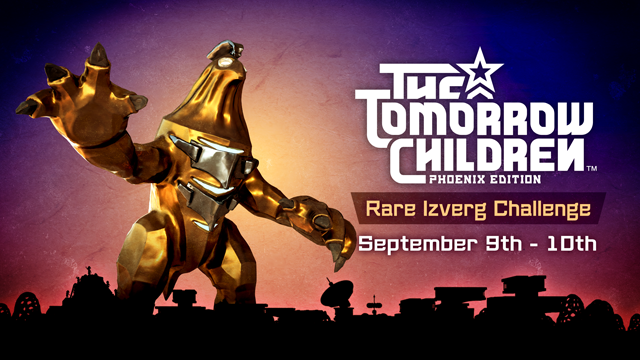 New Year, New Island
During the Anniversary Celebration, a new island will start appearing in the Void; the tranquil 'Maiden's Blessing'. Gather your comrades and co-ordinate to find this mysterious new location, then explore it together to reap the rewards! Will you be among the first to uncover its secrets?
When you discover a new island, make sure to let us know on Discord or by sharing your photos with the hashtag #TheTomorrowChildren.
Dress to Impress
Players who want to celebrate the first anniversary of The Tomorrow Children: Phoenix Edition in style will want to keep an eye on their login bonuses during the campaign, as the new 'Anniversary Attire' outfit will be available from September 7th. This dignified ivory ensemble is perfect for throwing a sophisticated party with your comrades, but don't be fashionably late - this event-exclusive outfit is only available until September 28th!
Setting Sales for Adventure
From September 7th to September 28th, there'll be big discounts on items from the in-game store, guaranteed to give you and your comrades everything you need for big adventures! The sales will focus on a specific theme each week, with a sale on tools leading the charge from September 7th to September 13th. After that, weapons and military equipment will be discounted from September 14th until September 20th, with a sale on Black Market goods following from September 21st until the 28th. It's a great time to stock up on useful equipment, so don't miss out!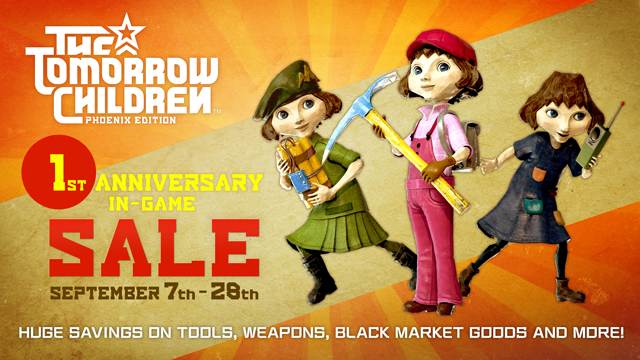 Never Scene Before
Avid in-game photographers may notice some new scenery to capture their perfect shot! From September 7th onwards, new environmental lighting and color variations will begin to appear across the Void. Keep a close eye on your surroundings and your finger on the Share button to immortalise the beauty of the Void in a screenshot, and be sure to share it with us on Twitter using the hashtag #TheTomorrowChildren, or our official Discord Server!
Currency Events
Finally, to give our comrades a little more spending money during the Anniversary Event, we'll be increasing the drop rate of Freeman Dollars. If you've had your eye on an expensive item for a while, chances are you'll have the funds you need to buy yourself a little present very soon!
Thank You, Comrades
Everyone here at Q-Games would like to take this opportunity to sincerely thank the players and communities that have made the first year of The Tomorrow Children: Phoenix Edition such a huge success. Your passion for the world that we have built together has been overwhelming, and we can't thank everyone enough for their amazing fan art, town builds, kind words on social media, gameplay streams and Discord discussions that have made bringing The Tomorrow Children back to you such a delight.
Thank you, comrades. Let's keep adventuring and together we will succeed!